Indulge yourself in a unique seaside experience
Taboo is a beach club and restaurant that has embraced Mediterranean food as a lifestyle. Fresh and original ingredients are used in extraordinary ways, with the main focus being on their purity, authenticity and reinterpretation of healthy Mediterranean cuisine.
Experience amazing beach and party days in the most attractive vacation destinations in Mexico: Tulum and Cabo. Discover these two Taboo Beach Club locations and experience an incomparable concept of sophistication and celebration.
Trendy and unbeatable locations
Taboo Beach Club has two unbeatable locations: the heart of the Hotel Zone in Tulum and the incredible facilities of the renowned Hotel ME Cabo. Taboo Beach Tulum is a space created by the inspiration of the architect Jorge Borja, winner of the Versailles prize awarded by Unesco; In Cabo, glamorous minimalism has been replicated maintaining the rustic and sophisticated design that distinguishes the brand.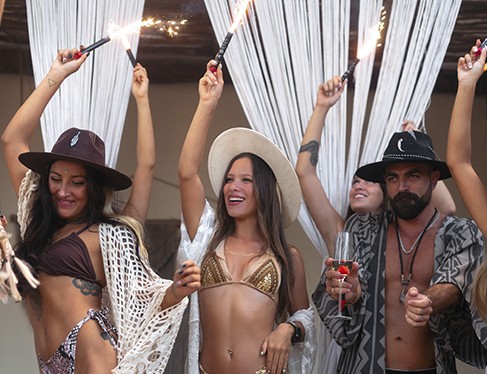 Sensual star-studded nights join the best music from the resident DJ, surprising artisan cocktails, and delicious dishes. Tantra Bohemian Luxury Beach Club sets a new standard in relaxed luxury with an elegant atmosphere
An ideal space to enjoy with friends, celebrate birthdays, go with your partner to a romantic dinner in Tulum or Cabo, as well as celebrating any special occasion in a chic and fun atmosphere.

SPANISH ANCHOVIES
Anchovies · avocado · sweet sundried tomatoes · olive oil
USDA PRIME BEEF FILLET TARTAR
Prepared tableside
HUMMUS
Olive oil · paprika · wood fired artisan pita bread
FISH CARPACCIO
Catch of the day · olive oil Sicilian lemon
SPICY FETA CHEESE
Nuts · chilies · smoked paprika wood fired artisan pita bread
SALMON TROUT SASHIMI
Cucumber · tomato · olive oil
TUNA TARTAR
Avocado · lemon vinaigrette · arugula
USDA PRIME BEEF CARPACCIO
Shaved truffle · mushroom mix · truffle oil
ALASKAN KING CRAB
lime aioli · 450 g - to share -
ITALIAN BURRATA
Arugula · assorted colour cherry tomatoes white balsamic glaze
PIQUILLO PEPPERS
Stuffed with goat cheese
GREEK YOGHURT WITH EGGPLANTS
Spicy pomodoro sauce · smoked eggplants parsley · olive oil
ROYAL OYSTERS
Sicilian Lemon · black sauce
LOBSTER PLATTER
lobster salad
ORA KING SALMON TOSTADA
Dill · red onion · cucumber · considered world's finest salmon · with the highest Green Choice Score
TABOO TZATZIKI
Greek yoghurt · cucumber · peppermint wood fired artisan pita bread
FISH CEVICHE
Catch of the day · bell pepper · chilies coriander · lime
CREAM OF MUSHROOM
Sundried mushrooms · sweet sesame and chia seeds · truffle oil
SEAFOOD TESTI KEBABI
Turkish stew with shrimp · mussels and calamari · cooked in a clay pot over a wood fire
CREAM OF ASPARAGUS
Asparagus · feta cheese
COLOSSAL OCTOPUS
Wood fired · fava bean puree caramelized onion · olive oil
U4 TIGER SHRIMP 3 pcs
Sautéed · red quinoa · sweet and sour sauce with Greek yoghurt
MUSSELS
Sautéed · white wine · Sicilian lemon parsley
STUFFED COLOSSAL CALAMARI
Wood fired · stuffed with ricotta and portobello · Italian tomato coulis
U2 NIGERIAN SHRIMP
Wood fired · olive oil · garlic coriander · spicy pepper
SEAFOOD CROQUETTES
Tzatziki
FETA CHEESE WITH ARRABIATA SAUCE
Wood fired feta cheese · arrabiata sauce olive oil
PATATAS BRAVAS
Spicy bell pepper sauce · garlic aioli
GREEK MEATBALLS
Wood fired · beef meat balls · tzatziki
ALASKAN KING CRAB
Charcoaled · lime aioli olive oil 450 g - to share -
CALAMARI
Grilled · black mayo
CAMEMBERT ENVOLTINI
Phyllo sheets · camembert cheese · honey arugula · fig · caramelized baked peach
LOBSTER SALAD
Lettuce mix · cherry tomatoes · yellow fresno pepper · granny Smith apple · red onion champagne vinaigrette
TABOO SALAD
Baby spinach · roasted bell peppers · asparagus feta cheese mousse · grilled baby carrots toasted sesame seed · balsamic reduction
ROASTED BEET SALAD
Caramelized nuts · wild arugula Greek yoghurt
TUSCAN SALAD
Grana padano cheese slices · lettuce · tomato cucumber · avocado · bell pepper orange wedges · red and white cabbage creamy balsamic dressing
CALAMARI SALAD
Mediterranean tomatoes · grilled calamari basil and cherry vinaigrette
GREEK SALAD
Tomato · cucumber · feta cheese · kalamata olives onion · olive oil
CATCH OF THE DAY
Fresh whole fish · cambray potatoes · 800 g - To share -
MEDITERRANEAN CARABINEROS 3 pcs
Charcoaled · roasted fresno pepper · olive oil cherry liqueur
BRANZINO FILLET
Grilled · olive oil · parsley · 400 g
WOOD-FIRED OCTOPUS TACOS
Tzatziki · hummus · bell pepper · cucumber serrano pepper
SURF & TURF
USDA prime tenderloin 350 g and lobster tail or Nigerian shrimp 300 g
BLUE FIN SKILLET TUNA
Sautéed · fire roasted smoked eggplant green beans · cherry tomatoes · 300 g
JUMBO ALASKAN KING CRAB CLUSTER
Wood fired · basil lemon aioli · exclusive gourmet product · sustainability certificate from Friends of the Sea ASC 1.2 kg - to share -
SEAFOOD PLATTER
Colossal octopus · royal oysters · Mediterranean shrimp · Alaskan king crab - to share -
SALT CRUSTED FISH
Whole branzino fish · baked using a sea salt crust · flambéed table side 1 kg - to share -
SALMON
Wood fired · flambéed with Ouzo anise · 300 g
SUN DRIED COLOSSAL OCTOPUS
Grilled · mushy peas · bell pepper · olive oil 300 g
MEDITERRANEAN SHRIMP
Wood fired · olive oil 3 pcs.
MEDITERRANEAN LOBSTER
Wood fired · Sicilian lemon · garlic butter 800 g - to share -
TURBOT
Provençal style · potato confit · roasted garlic olive oil · 450 g
CAPELLINI WITH CLAMS
White wine sauce · fresh basil parmesan cheese
BOGAVANTE RISOTTO
Carnaroli rice · Grana Padano cheese lime · asparagus
ANCHOVIES RICOTTA SPAGHETTI
Ricotta cream · anchovies · Amalfi lemon
LINGUINI WITH MEDITERRANEAN LOBSTER
Tomato basil sauce · Ouzo liqueur 800 g - to share -
BLACK RISOTTO WITH COLOSSAL CALAMARI
Colossal calamari · Italian bell pepper · calamari ink white wine
SEAFOOD SPAGHETTI
Spicy red sauce · parmesan · clams squid · shrimp · mussel
VEGAN RISOTTO
Organic vegetable · truffle · tofu cheese
VODKA RIGATONI
Spicy pomodoro sauce · vodka · cream · Grana Padano cheese · basil
RICOTTA SPINACH RAVIOLI
Stuffed with ricotta cheese and spinach Grana Padano cheese sauce · olive oil
SPANISH PAELLA
Calamari · octopus · white clams · shrimp spanish chorizo · sausage · piquillo peppers - to share -
VEGAN PAPPARDELLE
Organic vegetable · vegan cream tofu cheese
USDA PRIME
USDA prime angus beef · grain fed for 120 days hormone free · tender texture and high quality
RIB EYE 400 g
NEW YORK 400 g
TENDERLOIN 350 g
NEW ZEALAND RACK OF LAMB
Wood fired · mint ragu with olive oil 450 g
KOBE BEEF
NEW YORK 200 g
Certified meat from Japan 100% Tajima beef · regarded as the best meat in the world · refined taste delicate texture certificate received at your table
ROCK CORNISH
Wood fired · pesto · 500 g
VEGAN BURGER
Portobello · sweet pepper · tofu dressing pumpkin seed bread · natural yeast · egg free
LAMB BURGER
New Zealand lamb · Greek yoghurt hummus
THE FCK KOBE BURGUER
Double patty · american aged cheese · arugula tomato · onion · brioche bun · 350 g
MINI BURGER SAMPLER
USDA prime beef · lamb portobello
BEEF BURGER
USDA prime beef · Gruyère cheese serrano aioli
ORGANIC GIANT ASPARAGUS
Wood fired · olive oil
ROASTED CAULIFLOWER
Au gratin with cheese sauce
ORGANIC VEGETABLES
Wood fired · olive oil
SKILLET MUSHROOMS
Mushrooms · white wine guindilla pepper · olive oil
CAMBRAY POTATOES WITH FINE HERBS
Olive oil · maldon salt
HOMESTYLE MASHED POTATOES
Butter · black pepper
CHARCOALED EGGPLANTS
Tzatziki · peppermint
ROASTED SWEET POTATO
Cinnamon · cardamom · Greek honey from mount Hymettus
CAPPUCCINO BRÛLÉE
Dulce de leche Baileys · brown sugar Flambéed tableside
KAHLÚA
CHINCHÓN DULCE
CHINCHÓN SECO
PACHARÁN ZOCO
ANÍS LAS CADENAS
STREGA
DRAMBUIE
MANDARINE NAPOLÉON
GREEN CHARTREUSE
YELLOW CHARTREUSE
FRANGELICO
SAMBUCA VACCARI NERO
SAMBUCA VACCARI
LICOR 43
LICOR 43 OROCHAT
TABOO CARAJILLO
Union mezcal · Ancho reyes liqueur · Espresso · Honey Flaming cinnamon
FERNET BRANCA
BAILEYS
AMARETO DISARONNO
COINTREAU
GRAND MARNIER

Relax and indulge in an original shisha experience overlooking the crystal waters of the lagoon.
Choose among the special Mazaya Tobacco blends and observe the shisha preparation ritual.
Shisha comes to you in a variety of vivid flavors to choose from, ensuring a pure taste.
CLASSIC
Peach · cherry · mint · blueberry · blueberry - mint · watermelon · watermelon - mint · blackberry · double apple
ROSANEGRA
Tobacco: Love 66 · passion fruit · melon · mint watermelon Tanqueray Flor de Sevilla · rose petals blackberry
ORANGE BLOSSOM
Tobacco: mint · watermelon cherry · Tanqueray · orange cucumber
PITAHAYA MIX
TTobacco: blueberry · mint · watermelon Mezcal Unión · lemongrass basil
MOËT & CHANDON
Tobacco: Delons · watermelon · melon Moët imperial brut · red cherry · yellow lemon peel
TROPICAL PINEAPPLE
Tobacco: double apple · peach Hennessy cognac · peach · pineapple
BLACK FOREST
obacco: cherry · watermelon grape-berry Chambord · vanilla essence cinnamon
HOYO DE MONTERREY EPICURE NO. 2
Ring Gauge: 50 (19.84 mm) Length: (124 mm) Body: Light
PARTAGAS SERIE D NO. 4
Ring Gauge: 50 (19.84 mm) Length: (124 mm) Body: Full
ROMEO Y JULIETA / CORONITAS EN CEDRO
Ring Gauge: 40 (15.88 mm) Length: (129 mm) Body: Medium
ROMEO Y JULIETA NO. 2
Ring Gauge: 40 (16.67 mm) Length: (129 mm) Body: Medium
COHIBA PANETELAS
Ring Gauge: 26 (10.32 mm) Length: (115 mm) Body: Medium Full
COHIBA SIGLO II
COHIBA SIGLO II Ring Gauge: 42 (19.84 mm) Length: (124 mm) Body: Medium Full
MONTECRISTO NO. 2
Ring Gauge: 52 (20.64 mm) Length: (156 mm) Body: Medium Ful
COHIBA SIGLO I
Ring Gauge: 40 (15.88 mm) Length: (102 mm) Body: Medium
ITALIAN CHEESECAKE
Mascarpone · ricotta · Greek honey fresh figs · walnuts
GREEK YOGHURT
Atena s' mount Hy mett us honey · wa lnut s
HOMEMADE APPLE TART
Pan cooked · caramel sauce vanilla ice cream · Almonds
ICE POPS WITH FLAMBÉED ITALIAN MERINGUE
Chocolate · vanilla · hazelnut
ICE POPS WITH FLAMBÉED ITALIAN MERINGUE
ITALIAN LEMON FIORENTINA PIE
ITALIAN CANNOLI SAMPLER
Nutella · ricotta · coffee · hazelnut bits
CARROT CAKE WITH GREEK YOGHURT
Sugar free · gluten free · low carb organic · pecan nut
BANANA BREAD TIRAMISU
Banana cream · mascarpone cheese cream coffee · bitter chocolate
HOMEMADE BANANA TART
Banana cream · caramelized banana caramel dome
VALRHONA CHOCOLATE SOUFFLÉ
Handmade at the moment 25 minutes
SORBETS
Lemon · berries · tangerine · green apple
TABOO DESSERT PLATTER
Italian mascarpone cheesecake Banana bread tiramisu Italian lemon fiorentina pie Carrot cake with Greek yoghurt - To share -
BLACK & WHITE CHOCOLATE CAKE
Berries · white and dark Valrhona chocolate
CATALAN CREAM
Sicilia n lemon · cara mel cr ust
HOMEMADE APPLE TART
Pan cooked · caramel sauce vanilla ice cream · Almonds
ICE CREAM
Vanilla · chocolate · coffee · Ferrero Rocher
RICOTTA ORANGE CHEESECAKE
Caramelized orchard oranges