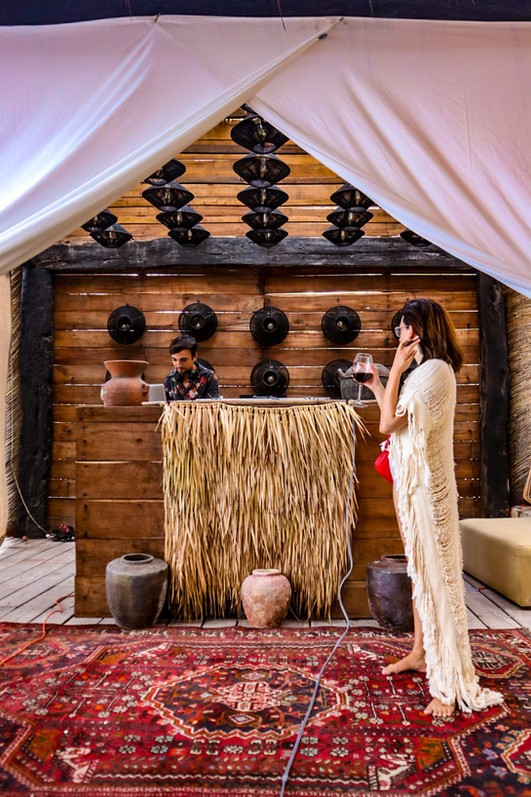 Glam, Party and champagne showers in Tulum
Vagalume Tulum Beach Club is a fascinating Latin experience, where you can enjoy life by the sea. Experience the magic of the Mexican Caribbean, with bottles of champagne in an atmosphere of celebration and seduction.
Its eco-chic ambiance surrounded by lush vegetation, white sand and turquoise sea, will create the ideal atmosphere to enjoy an exclusive beach party.
Shrimp Red Aguachile
Raw shrimp macerated in lime juice, jicama, mango, purple onion, cucumber, passionfruit, serrano pepper
Carpaccio de extraviado
Finas laminas de pescado extraviado macerado, limon, chile serrano, pepino, sal ahumada y pimienta rosa. $490
Grilled Shrimps
Roasted cherry tomatoes, salsa macha.
Aguachile rojo de camarón
Jícama, pepino, mango, cebolla morada, maracuya, pimiento rojo, chile serrano. $600
Fried Calamari
Roasted garlic cream, ciboulettte.
Camarones al grill
Salsa macha y tomates. al grill, tomates cherrys en salsa macha, limon Eureka $650
Ceviche de Langosta
Frutas de temporada, citri-cos, chile serrano, leche de coco y avellanas. $650
Extraviado Carpaccio
Thin macerated white fish slices, lime juice, serrano pepper, cucumber, smoked salt, pink peppercorn.
Calamares Fritos
Acompañados de crema de ajo rostizado y cebollín y limón Eureka. $450
Lobster Ceviche
Mango, cucumber, jicama, avo-cado, citrus supreme, coconut and hazelnut dressing.
Lobster Quesadilla
Homemade black tortilla, salsa macha, avocado pure, butter lobster, Oaxaca and raclette cheese.
Empanadas de Suadero
Empanada de maíz, suadero de res, queso provolone y asadero, pure de aguacate y hojas frescas. 2 pzs. $300
Picanha confit tacos
Beer demi-glace, avocado, lemon, salsa tatemada.
Empanada de camarones adobados
Queso provolone y asadero, pure de aguacate y hojas frescas. 2pzs. $350
Marinated Octopus Tostada
Roasted pineapple, avocado pure, baby onions.
Quesadilla de Langosta
Tortilla hecha en casa, salsa macha, puré de aguacate, langosta a la mantequilla y mix de quesos. 1pz. $600
Octopus Sopesitos
Spanish chorizo, refried black beans, avocado, salsa verde.
Tacos de Picaña confitada
Glace de res y cerveza, aguacate, limón Eureka y salsa tatemada. 3pzs. $490
Epazote buttered lobster
Grilled lobster, cornesquites, fresh cheese, lobster mayonnaise.
Tostada de Ceviche de pulpo adobado
Piña asada, puré de aguacate y cebollita cambray $490
Hamburguesa Angus
Carne Angus, lechuga, tomate, cebolla, pepinillos, aderezo de la casa, mezcla de quesos. $480
"Suadero" Empanada
Beef confit filling with provolone and asadero cheeses, avocado pure, herb mix.
Sopes de chicharrón de pulpo
Chorizo español, salsa verde, frijoles negros. 3pzs. $480
Adobo Shrimp Empanada
Provolone and asade-ro cheeses, avocado pure, herb mix.
Langosta con mantequilla de epazote
Esquites asados al grill, mantequilla de epazote, esquites asados, mayonesa de langosta, queso fresco. $2,900
Angus Burguer
Angus beef, lettuce, tomatoe, onion, pickles, homemade dip, cheeses blend.
Tomato Salad and Panela Cheese
Fried cream cheese, fresh cheese, coriander pesto, apple vinaigrette.
Ceviche de setas salteadas al limon
Cebolla morada, cilantro, tomate cherry, leche de tigre de almendras. $350
Berry Salad
Assorted berries, pecans, feta cheese, serrano jam, red fruit vinaigrette.
Ensalada de tomate y queso panela
Queso crema frito, queso panela fresco, pesto de cilantro, vinagreta de manzana. $350
Rustic Guacamole
Roasted serrano peppers, onion, coriander, lime juice.
Ensalada de berries
Frutos rojos, nuez, queso feta, jamón serrano, vinagreta de frutos rojos. $380
Fruta de temporada
Pistaches, almendras, albahaca, aderezo de maracuya y chiles secos. $220
Mushroom Ceviche
Sauteed mushrooms, lime juice, purple onion, fresh coriander, cherry tomato, almond leche de tigre.
Guacamole Rustico
Chiles toreados, cebolla tatemadas, cilantro, limón $270
Seasonal Fruit
Pistachios, almonds, basil, passionfruit, dried chilies dressing.
Banana Monkey Split
Banana ice cream, salted caramel cream, fresh banana, plantain puree
Banana Monkey Split
Helado de platano, crema de caramelo salado, platano fresco, platano frito. $350
Citrus Cheese Cake
Cheese cake de queso mascarpone y queso crema, granche de chocolate blanco y haba tonka, salsa de citricos confitados. $450
Citrus Cheese Cake
Mascarpone and cream cheese cheesecake, white chocolate and tonka bean ganache, citrus sauce.